Take a Tour Welcome Video
Piano Marvel is an interactive teaching tool combining the addictive and challenging nature of video games with the real-life experience and music theory learning. It allows you to learn piano through an interactive software experience. Instant feedback shows you where mistakes were made if you are playing a note or rhythm incorrectly.
If you are interested in sight-reading with interactive features and video tutorials, Piano Marvel should be your winner.
Price
A Piano Marvel account is free!
Users can set up a free trial and have access to all piano marvel tools for 30 days, after that they have free access to over 200 songs and exercises, sight reading tests, reports, progress tracking and more with a free account.
Users will not need to provide billing information until they upgrade to a premium account, which can happen at anytime. Piano Marvel hopes that users will learn a ton with Piano Marvel and want to activate their premium account which unlocks thousands more songs and exercises.
The free trial is a great opportunity for beginners to try the lessons and it's risk-free. Set up a free account by clicking here: FREE ACCOUNT
If you want to upgrade to a premium account, Piano Marvel allows Piano-tutorials users to benefit from a $12 monthly subscription ($15 on Piano Marvel website) because we are an affiliate partner. At the end of this review, you will see how to get 20% off Piano Marvel using tutorial as promotional code.
When you have a premium account, you are not obligated to pay for any length of time. You always maintain full control to manage your account and suspend or cancel it.
Platform
You will need a Windows or Mac computer with 2 GB RAM memory, a MIDI enabled piano keyboard, a USB adapter and an active internet connection.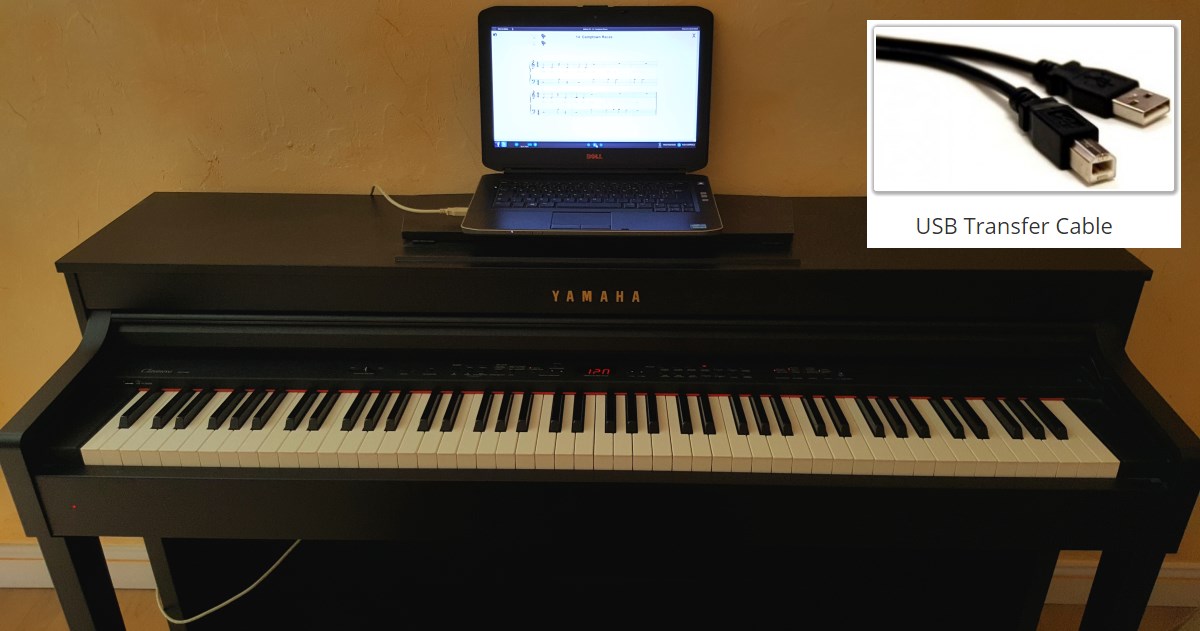 Piano Marvel works to your PC, it's a simple to use desktop application that runs in your browser (Chrome or Firefox). Sign up online through the PIANO MARVEL website then download the software.
Connect your keyboard to your computer using a simple USB adapter (I use my printer cable). Hit the lowest and the highest key to configure your keyboard with the software and now start learning.
Founder
Aaron Garner graduated with his Bachelor's degree in piano performance from the University of Southern Colorado in 1998. He earned his Master's degree in piano performance and pedagogy from the University of Northern Colorado in 2000. He spent years of developing and composing a new teaching method and testing it on his piano students.
Piano Marvel LLC was created in March 26, 2009. Aaron's bright idea is the gamification of piano lessons. As the students practice their songs, they earn points and trophies based on how well they play the songs and levels they complete. Aaron made piano practice a fun game and the students love practicing the piano. Their piano skills are progressing much faster than ever before.
Product Overview
Piano Marvel is an interactive teaching tool combining cutting-edge technology with a solid pedagogical platform designed with real music teachers. You can learn piano through an interactive software experience.
As you play each song, Piano Marvel tracks your keystrokes and timing. When you complete each song, you get a score from 0 to 100 and Piano Marvel makes it easy to see where you need to improve with immediate assesment and clear indications of miss notes, wrong keys and more. It also tracks and saves your progress to the cloud so you can practice using almost any computer.
Piano Marvel's learning process presents lessons in a simple intuitive interface. It provides 60 lessons with hundreds of different exercises and dozens of classical and contemporary repertoire basics.
Songs and exercises are designed to challenge all ages and ability levels. You move from simple rhythms to more complicated music. Video tutorials are included with each set of exercises.
1,200 exercises
Your first lesson with Piano Marvel
The lessons are structured into two categories - Method and Technique. Each category contains 30 lessons with 20 exercises per lesson. The two categories support each other with Method teaching a new concept and Technique reinforcing it.
The method training introduces music theory gradually with musical notation, hand positions, finger placement, scales and the associated chords. Video tutorials are usually provided and summarize what you'll be learning.
The technique has important chords, scales, ear training and note recognition exercises. It is necessary for your overall development, sight reading and playing by ear.
You can use the 'Practice Mode' button on the method and technique categories. The Practice Mode breaks up a piece into manageable sections so you can more easily learn. The software is also very flexible in that it lets you control the tempo and the accompaniment to learn the piece.
You can earn a trophy with each lesson that you complete. If you earn at least an 80% on every exercise, you will receive a bronze trophy. You need 90% for a silver trophy and 96% or better for a gold trophy. The Super Gold trophy is only awarded for scoring 100%. This challenge is designed to motivate the students to practice more and improve their skills faster than traditionnal teaching methods.
1,000 performances pieces waiting for you
Find your favorite songs
The repertoire section is split by level. This allows you to pick a piece well matched to whatever level you want. It is particularly useful for progressing as you don't pick something too difficult and become disheartened. You can also watch videos of most of the songs being played or print the sheet music for free.
You can find all genres (classical, popular, holiday, jazz/blues and rock) but most of the free songs are classical songs. You can purchase popular songs for $3.99. There is a huge repertoire of tunes and sometimes you can find the same song with different levels. Piano Marvel is constantly adding more songs to the library for all ability levels.
For songs, Piano Marvel has built in an amazing way to learn songs efficiently. They call it slicing. Slicing is a way to break down performance pieces into small manageable trunks to learn something more difficult than the level at which you are currently studying.
Standard Assessment of Sight Reading
Assess and track your sight reading progress
Anyone can take this test for free. It is designed to help you assess, track, and improve Sight Reading.
The test provides thousands of sight reading examples that are leveled using real-world data. A user can get an accurate picture of how well he sight reads compared with other users and see how his sight reading has progressed over time.
The ability to sit down and play a song for the first time is a very valuable skill to develop.
Support and Community
I asked two questions to Piano Marvel support and I had the response within a couple of days. You can also call their sales and support office. You can send your request if you would like to make a request for music or make suggestions.
The support can help you if you are in need of a teacher to guide your studies. They do have Certified Piano Marvel Instructors in many parts of the country and some that teach online lessons as well.
Piano Marvel is connected to Facebook and Twitter if you want to interact with the community.
Summary
PROS
You can learn piano through an interactive software experience with features to track your keystrokes and timing.
A solid pedagogical platform designed with real music teachers. The lessons are segmented into small manageable parts and you can break up a piece into small sections so you can more easily learn.
With Piano Marvel you are learning faster than with traditionnal teaching methods. You are excited with the challenge of earning trophies and you are encouraged to practice more to perfect an exercise.
CONS
The software can detect when and what key you hit, but it doesn't detect when you have released the key.
Some of the tunes used in lessons are not very exciting to me.
In summary, If you really want to learn piano fast and are interested in reading sheet music, Piano Marvel is the best choice with its different facets of learning, including a focus on sight-reading and playing by ear.
Review Date
May 14, 2016.
How to get 20% off Piano Marvel using tutorial as promotional code
Piano Marvel allows Piano-tutorials users to benefit from a $12 monthly subscription ($15 on Piano Marvel website) because we are an affiliate partner.
If you want to upgrade to a premium account and get 20% off Piano Marvel, click Visit Piano Marvel button at the bottom right of this page. You will be automatically redirected to Piano Marvel website (and you will be identified as coming from Piano-tutorials).
On the signup form, check the $12/month price.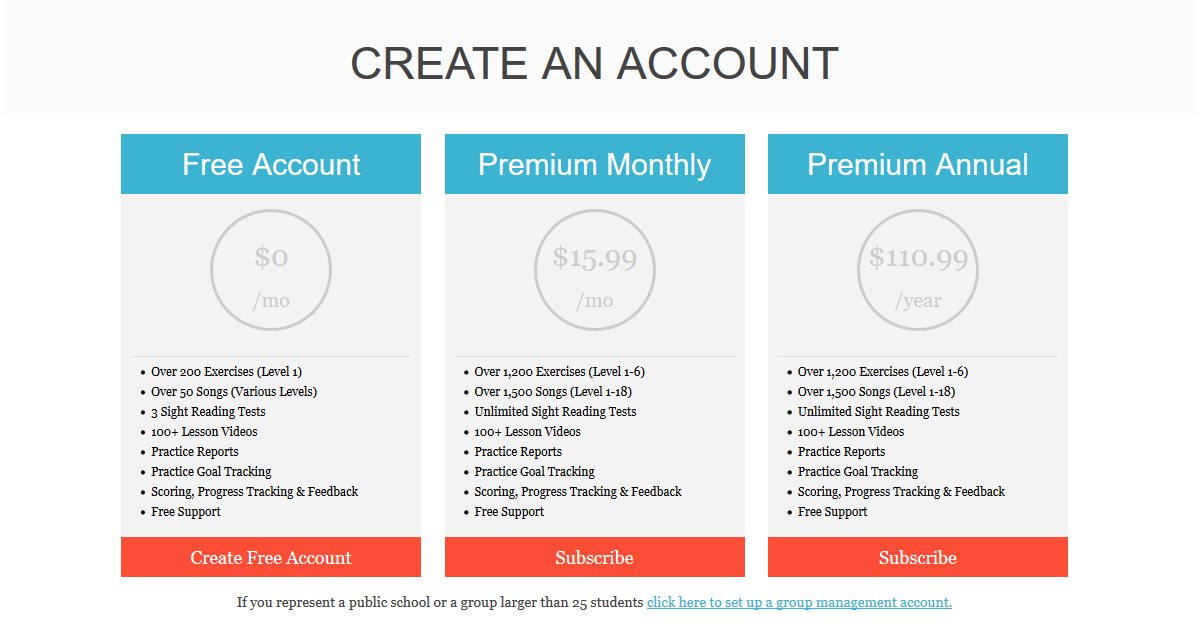 Or you can enter tutorial as promotional code.

If you find that Piano Marvel meet your expectations, you can also purchase the $99 annual subscription.
If you become a Piano Marvel member, thanks again because Piano-tutorials will earn a commission to develop our website. You can share your experience with Piano Marvel and add your comments at the end of this page.